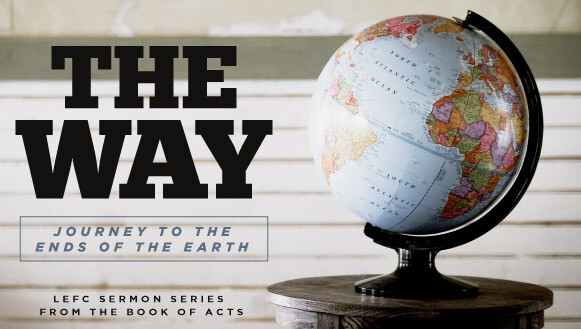 Discussion Guide – "The Way—Fight or Flight" Pastor Tony
(Continued from Fall and Winter Series)
June 11, 2017
If we want to understand the history of the church, Acts is our book. This study will continue to give us a picture of how the early church handled its beginnings, struggles and subsequent growth in a culture not unlike our own—somewhat hostile but open to spiritual things. We need this.
Feel free to use more or less of these questions. They are here to move us from knowledge to obedience as God's Spirit speaks to our hearts. Share what God is doing in your heart as a result and have others you trust hold you to account for the life-change God is working in you.
Text: Acts 19:23--20:1
What businesses today could stand to lose money if "The Way" became more influential in people's lives? Targeting businesses that profit from secularism happens among some Christians. Should this be the goal? (see John 3:17, Message Version)
Distortion of truth is common especially in today's political climate. How we respond to truth distorted, determines our ability to be heard. I have seen Christ-followers and Secularists debate on social media and sometimes it isn't very pretty. How does one discern the best way and place to respond to personal and spiritual falsehood keeping in mind our desire to be Christ-like? Matthew 18 provides guidelines for helping us through conflict with other believers. The advice of others/pastors/elders is also helpful.
What are some specific reasons to stay quiet and allow Truth to "stand"? (Flight) When we see our faith under attack, or when we come under attack? (a high degree of conflict may indicate a context of quietness, despite our desire to defend/speak up)
"But in your hearts revere Christ as Lord. Always be prepared to give an answer to everyone who asks you to give the reason for the hope that you have. But do this with gentleness and respect." (1 PE 3:15) How does this scripture help us relate to those who engage us in spiritual argument (apology)? How does this relate to Christ's command to, "make disciples"? (If we are being discipled, we will be prepared) What, specifically, should we be prepared to speak of?
Discuss the passage in 1 CO 3:5-7. "6 I planted the seed, Apollos watered it, but God has been making it grow.7 So neither the one who plants nor the one who waters is anything, but only God, who makes things grow." How does an understanding of this text help us with being more concerned about the soul than winning the argument?