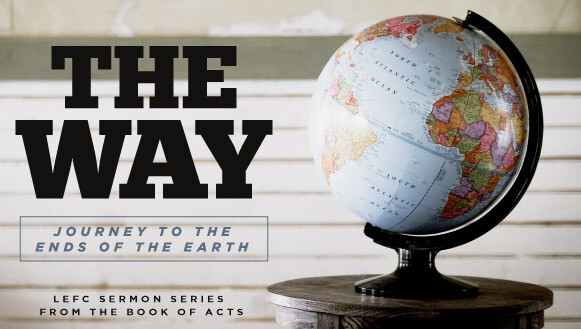 Discussion Guide – The Way: God Writes The Story - PASTOR JOEL
Questions by Pastor Ric
August 6, 2017
If we want to understand the history of the church and the Gospel, Acts is our book. This study will continue to give us a picture of how the early church handled its beginnings, struggles and subsequent growth in a culture not unlike our own—somewhat hostile but open to spiritual things. We need this.
Feel free to use more or less of these questions. They are here to move us from knowledge to obedience as God's Spirit speaks to our hearts. Share what God is doing in your heart as a result and have others you trust hold you to account for the life-change God is working in you.
TEXT: PSALM 90; ACTS 28:16, 30
Gaining a proper perspective of the everlasting God is a challenge. How does our inability to put God where He belongs affect our ability to live for Him and share the Gospel? How do we gain a better perspective of the "eternal, thousand years is but a day" God?
How does understanding the "Big Picture" (the whole) of the Bible's message help us with understanding the smaller portions (the parts--books, letters)?
The gospel message is the message of redemption from the "groaning" of sin (RO 8:22). Tim Keller puts it this way, "The gospel says you are more sinful and flawed than you ever dared believe, but more accepted and loved than you ever dared hope." How does a deep understanding of this truth depend on our perspective of God's extensive and unconditionally loving plan for our salvation.
Sometimes (many times) the world is so chaotic and our present-day culture seems so far from God. However, it has been shown countless times through the ages, that His sovereignty is clearly evident through the most chaotic and horrible of circumstances (for example: DAN 11:2-4). What impact should this repeated lesson of history have on us as we cope with our nation's cultural and political chaos?
God's Plan A=Multiply disciples (Acts 1:8/MA 28:19,20) and that's what the church is all about. Is our church doing this? Are we, as Christ-followers doing this? How do we know? How are Life Groups a part of God's plan A?
What is the "secret" formula for the wild and unstoppable growth of the early church? (hint: it's the answer to the last question in #5 above and involves growing AND going.)
Who are the people you are sharing the gospel with and discipling? How can we be more effective in the job of intentionally sharing our lives (as Paul did) with others who need to see and hear of Christ's gift of love and eternal life?