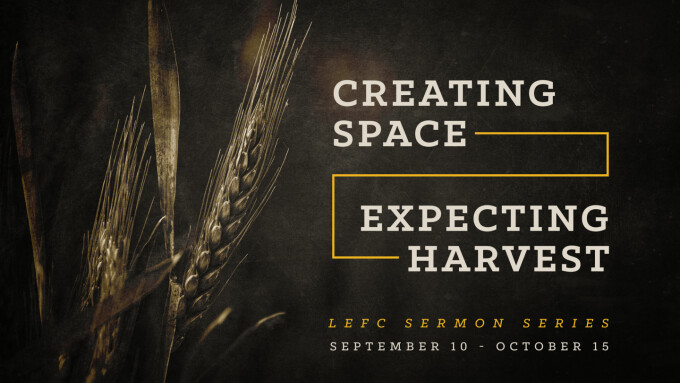 Discussion Guide – Creating Space. Expecting Harvest: Generosity Changes Lives—Especially You. Pastor Tony
Questions by Pastor Ric
October 1, 2017
"This Fall will be crucial in engaging our church family both in heart and vision. To do that, there will be six weeks in our church's life, September 10 through Oct 15, that may be the most strategic season yet in the history of LEFC. We will be communicating vision, engaging hearts, and approaching our God together in expectation of a "Harvest". One important and strategic step we want to ask of the congregation is to have all small groups, home groups, care groups, and Life Groups meet weekly for those six weeks and utilize a sermon based group discussion guide. I recognize that is no small request, but I feel it is essential to our church's future. These six weeks are also an invitation for those who are not in a group to join one, so we will be offering opportunities for people to join a group. " Pastor Tony
TEXT: 2 CO 8:1-5, 6-9
Pastor Tony's Questions:
*Why would you give beyond anyone's expectation to those that you do not even know?
*How do you get to the place where you are pleading, even begging, for the opportunity to be generous?
Charlie's journey (interview):
Model of his parents
Intentionality in regular giving and random acts
Biblical direction Mal 3/1 TI 6
Hearing God's voice
Salary and resources
Cultural model is reversed and based upon consumerism
God is the epitome of generosity and generosity is an incredible act of worship
Do you think generosity is a spiritual gift? What is it about our culture that tends to hinder our desire for generosity?
(Remember the quote: "We are all well-discipled consumers…" Alan Hirsch)
The scriptures do not condemn wealth and riches (they condemn the love of it). Yet, when we think of generosity, we usually think of money and wealth. Have a conversation about how generosity is not exclusively a financial act and based upon wealth. (8:2, 3)


How is generosity related to God's grace and a deepening walk with Christ? But, is a desire to be more generous enough to make it happen? Discuss how we can as individuals and as Life Groups (hence LEFC) develop a reputation for generosity.