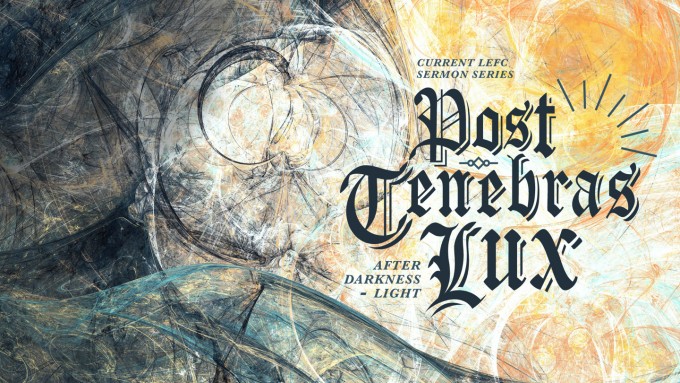 GROUP DISCUSSION GUIDE
Below are some discussion questions relating to a recent sermon. These are provided so that your Life Group can discuss what was shared. Previous Weeks' Discussion Guides and Sermon Notes are available through the Sermons under the Resources menu. Click on the sermon series and then the sermon you are interested in to open it. You will see Paper icon under the sermon title. Click the icon to open the sermon notes. To listen to the sermon click on the speaker icon.
POST TENEBRAS LUX --- (AFTER DARKNESS, LIGHT) Justification by Faith
PASTOR TONY
Group Discussion Guide
(Choose the best question(s) for your group)
November 5, 2017
Questions by Pastor Ric
TEXTS: RO 3:23; 6:23; 5:8; EP 2:8, 9; RO 4:5; 2 CO 12:9; HE 10:10; IS 64:6; GA 2:16; RO 10:4
The historic/cultural context of this week's teaching is the use of "indulgences" by the church. They are defined as "… the opportunity to pay money to move a soul stuck in purgatory to heaven. Additionally, it became a means by which one could purchase letters of indulgence to cover past and future sins. In other words, one can offer these letters to justify one's self before God." (Pastor Tony)
The biblical teaching on justification by faith is clearly explained in the texts above. Read aloud through the passages in Romans/Ephesians 2:8,9 and talk about why justification by faith seems so confusing/unacceptable for some. (There was a high cost paid for our justification we could never afford (1 CO 6:19, 20)--How is this "counter culture"?) What can we do, as Christ-followers, to help others understand this key teaching?
Is justification by faith for past sins only? If not, how could we be justified by faith today for sins we have yet to commit?
In Romans 7:18-20, Paul explains a quandary we all experience. What, according to Paul, is the solution? How can one identify the source of the sin (repeated sin) we struggle with? (hint: find some passages about generational sin)
Is there anything I must do to receive the righteousness before God that I receive through justification by faith? (2 CO 12:9; HE 10:10; IS 64:6; GA 2:16; RO 10:4) How do we reconcile the seemingly contradictory words of James 2:14-24 with justification by faith alone? How does this teaching reminder of justification specifically affect your life in Christ today?