Thriving and Changing Lives
This series began with the message "Not of my making."
Daniel, the makings of an influencer.
He did not play the victim card.
His identity was found in God alone.
Hope in God was what he emoted.
"Don't buy the lie that you don't matter. You do. Don't buy the lie that your response to evil in your workplace, community, family, and our nation doesn't matter. It does. We just have to push the right buttons. They're called hope, humility, and wisdom." Larry Osborne
Hope is found in a relationship with Jesus Christ.
Hope draws strength from something greater.

Hope creates a path to walk in the midst of difficulty.

Hope in Christ gives purpose to each days challenges and successes.
Hope creates opportunity to proclaim.
1 Peter 3:15 "But in your hearts revere Christ as Lord. Always be prepared to give an answer to everyone who asks you to give you the reason for the hope that you have. But do this with gentleness and respect."
Communion
A simple divine take on the future. Daniel 12:8-10
Keep going—don't be dogged down by burden of the future.

(9)

Many will be transformed—purified, spotless, and refined. (10a)
The wicked will simply be wicked.

(10b)
The wicked will not understand. (10c)
Only the wise will understand.
"The fear of the Lord is the beginning of wisdom, and the knowledge of the Holy One is understanding." Proverbs 9:10
Take Aways
Hope in Christ transforms you.
A hope-filled person will get opportunities to speak.
Speaking with a humble spirit will be heard.
Words filled with the wisdom of God will transform others.
Series Information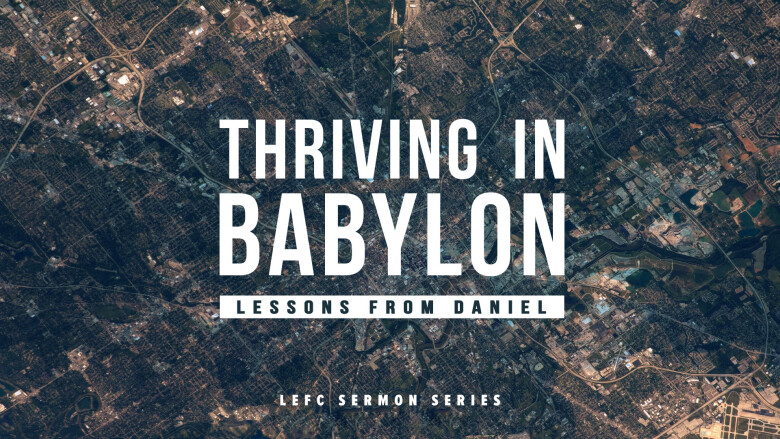 Many in America feel that our culture is so pagan there is no hope and consequently live a defeated life or a life of fear. Daniel lived in an increasingly pagan culture yet thrived in his faith—even impacting the entire kingdom. This series will look at how Daniel thrived in his walk with God when few others dared.