Origins
Getting Jesus through Genesis
CLICK HERE FOR THE LIFE GROUP DISCUSSION GUIDE CONTAINING DISCUSSION QUESTIONS
Origins- Have you met someone recently that really intrigued you? Caused you to want to know their story? I had such an encounter in Spain back in July. I met this man who was built much taller and broader than me. He looked like someone who you would choose first for your football team. His personality and the types of questions he asked through an interpreter and app spoke of a depth in this man that created an intrigue to the mystery of some of his perspective. Things became very interesting as he shared that he had immigrated from Romania after serving in the military during some military conflicts that have connection with what we read about in today's news. He has family in Ukraine and friends that have scattered due to the current Ukraine conflict. He currently works in a glass factory in Northeastern Spain and longs to return to his homeland. He feels a draw to his origins. Once I heard his story, it helped me understand him, his perspective, and some of his plans.
What if we had no context to Jesus other than him as a historical figure? Would we understand what it means to be saved? Would we understand sin? Would we have any context to God, his character, and what he desires? Would we consider Jesus rational for choosing to suffer a horrific death? Why did he do what he did? We are lacking the origin to God's character, creative and redemptive work! We would be lacking context to our own origins? You need the context Genesis provides for Relationship with God, Revelation of who God is, and the Redemption story.
Read Luke 24:13-49
Grief and anxiety can often be caused by limited understanding of Scripture. (18)
They had access to Jesus' teaching that he must go to Jerusalem to suffer.


They had even been told by several women that day that the tomb was empty, and he was alive. (22-23)


They were likely traumatized by the gruesome crucifixion and could not accept the possibility of a resurrection.


They had information, but did not have proper context to understand, which could have helped them believe.
The Gospel of Jesus Christ is rooted in a narrative and needs the whole of Scripture to be understood and believed in a post-Christian society. (25-27)
Jesus needed to re-address the origins of the narrative because the premise for how the narrative was going to continue was flawed.


Jesus undid their presumed "next chapters" by starting at the beginning and untangling the mess of many flawed interpretations that wrote an end to the narrative that was way off.
Jesus gave clarity to himself, his death, and his mission by going back to the beginning!
Moses (27, 44)- The Torah, first five books: Genesis, Exodus, Leviticus, Numbers, and Deuteronomy.
Prophets (27, 44)- Both Minor and Major Prophets spoke provided messianic clarification.
Psalms (44)- Written as songs and poems as musings of the heart between man and God, and directed by the Spirit of God which led to insights of future messianic clarity.
What verses did he quote? Which prophets did he refer to? What Psalms were most pertinent to bringing understanding to his death burial and resurrection?
Could he have read…
Genesis 3:15; 28:14; 49:10
Leviticus 17:11 "For the life of a creature is in the blood, and I have given it to you to make atonement for yourselves on the altar; it is the blood that makes atonement for one's life."
Job 19:23-27
Jonah
Isaiah 6, 8, 9
Isaiah 53:3-5 "He was despised and rejected by mankind, a man of suffering, and familiar with pain. Like one from whom people hide their faces, he was despised, and we held him in low esteem. 4 Surely, he took up our pain and bore our suffering, yet we considered him punished by God, stricken by him, and afflicted. 5 But he was pierced for our transgressions, he was crushed for our iniquities; the punishment that brought us peace was on him, and by his wounds we are healed."
In explaining Jesus, Scripture is the most effective path to the heart. (32)
Good heart burn!


Watching or reading a story that captivates to where you desire to be part of the narrative.


Clarity had come and belief was birthed! (34)
Scripture, from Genesis to Revelation, is God's tool to equip us in sharing Jesus with our oikos, in our community, to our country, and to the nations.
2 Timothy 3:14-17 "But as for you, continue in what you have learned and have become convinced of, because you know those from whom you learned it, 15 and how from infancy you have known the Holy Scriptures, which are able to make you wise for salvation through faith in Christ Jesus. 16 All Scripture is God-breathed and is useful for teaching, rebuking, correcting and training in righteousness, 17 so that the servant of God[a] may be thoroughly equipped for every good work."
If you were asked by someone who had no context of Scripture, would you know where to take them in Scripture? Maybe, this would be a good season to journey back to the beginning and prepare for such conversations.
Benediction: Let's go back to the beginning so that we can go forward in sharing Jesus with the generations to come!
Series Information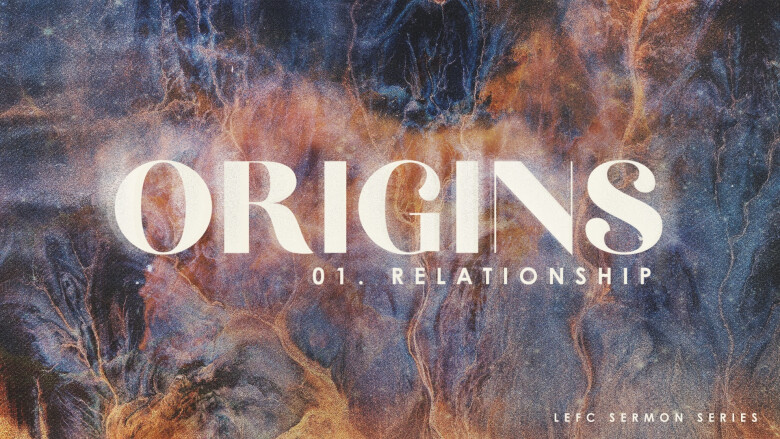 It is not likely you can start a book in the very middle of it and be able to understand what is going on. In the same way, understanding Jesus without having the context of Genesis would be difficult as well. In a society that has little to no biblical context, we need to be able to convey the beginning of the Bible in a manner that would explain why we need Jesus. This series will reconnect us with our origins, so that we can understand and communicate how Jesus can change someones life.