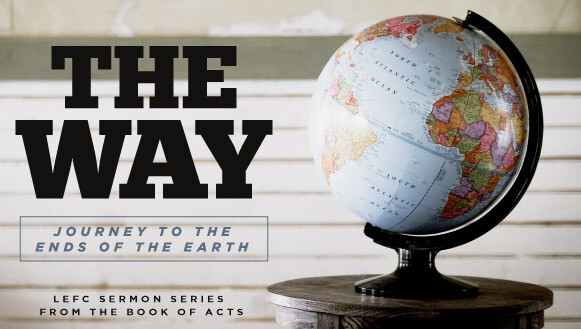 Discussion Guide – The Way: "God Loves the Whole World"- PASTOR JOEL
Questions by Pastor Ric
August 13, 2017
If we want to understand the history of the church and the Gospel, Acts is our book. This study will continue to give us a picture of how the early church handled its beginnings, struggles and subsequent growth in a culture not unlike our own—somewhat hostile but open to spiritual things. We need this.
Feel free to use more or less of these questions. They are here to move us from knowledge to obedience as God's Spirit speaks to our hearts. Share what God is doing in your heart as a result and have others you trust hold you to account for the life-change God is working in you.
TEXT: Theme from Acts, assorted biblical references (John 3:16, 17, 18; PS 96; GEN 22: 17. 18; RO 10)
There is a bumper sticker that reads, "God Bless the Whole World, No Exceptions". When it comes to biblical faith, it clearly goes beyond geography and politics. How can a deeper understanding of God's plan of salvation help us cope with the divisiveness of our contemporary political climate?
The command to make disciples is plainly stated (MA 28:18-20) and many times it requires us to get out of our comfort zones. Why should we get out of our comfort zones and make disciples? How can we do that? Discuss the ways you and your Life Group is using Mission (what you do in Jesus' name outside of the church) to encourage each other to ministry and discipleship. Discuss also why we are prone to stay in our comfort zones and many times not make disciples.
When does biblical discipleship actually begin and why? (we are always being discipled by the culture)
There is so much familiarity with John 3:16, which is fine, but it was also good to hear about John 3:17 today. Here is the Message translation of that verse: "God didn't go to all the trouble of sending his Son merely to point an accusing finger, telling the world how bad it was. He came to help, to put the world right again." It is easy for Christ-followers to get caught up in being judgmental of a culture that continues its movement away from God. How can we help each other become better "lovers" of people and avoid our propensity to criticize the culture?
Talk about your 'Oikos" as a group. What is it? Who is it? What are your plans for discipleship and mission in your group's Oikos in the coming year?
I have often wondered if persecution is coming to America. We see some small beginnings of it. What do you think would happen if American Christians came under the kind of persecution the church saw in Acts?
Life Groups are the church (in general terms) in its smallest, safest and most intimate form. How could the future of the church depend on them, if persecution becomes severe?
Acts 1:8 speaks of the Spirit's power enabling us to testify to what Christ has done in our lives…So, to whom is God asking you to speak with when it comes to "going" to your Oikos? How can LEFC help you? How is the command to speak the good news to all the earth carried out at LEFC?