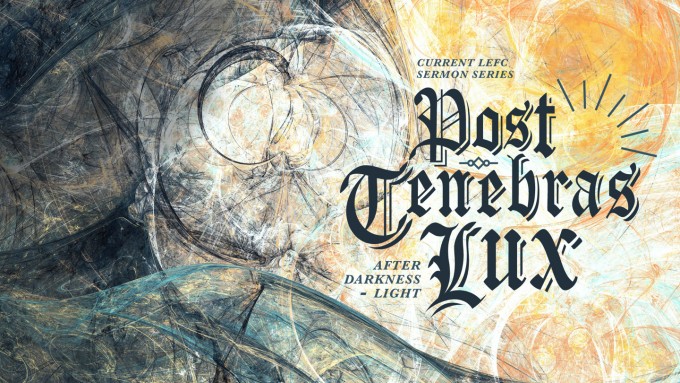 GROUP DISCUSSION GUIDE
Below are some discussion questions relating to a recent sermon. These are provided so that your Life Group can discuss what was shared. Previous Weeks' Discussion Guides and Sermon Notes are available through the Sermons under the Resources menu. Click on the sermon series and then the sermon you are interested in to open it. You will see Paper icon under the sermon title. Click the icon to open the sermon notes. To listen to the sermon click on the speaker icon.
POST TENEBRAS LUX --- (AFTER DARKNESS, LIGHT) The Priesthood of All Believers
Corey Mitchell
Group Discussion Guide
(Choose the best question(s) for your group)
November 12, 2017
Questions by Pastor Ric
TEXTS: 1 TI 2:5,6; HE 2:14-3:1; *HE 4:14-16; MA 27:50-54; HE 9:2-7; HE 9:11,12, 10:19-25
The concept of a special class of religious leaders was widely accepted among people pre-Reformation. Despite Luther's successful challenge to this concept, there is still sometimes a notion that Protestant pastors/elders are somehow able to do many "religious" things others cannot. What is the biblical basis for qualifications of church leaders/pastors? (Titus 1:5-9; 1 TI 3:1-12) How are they different (if at all) from the rest of any congregation?
The fact that we now have the Bible in numerous reliable translations seems to be taken for-granted perhaps because these translations have been so accessible for so long. I can get five or more of them easily on my iPhone! Yet, many of us depend on the weekly Sunday teaching coming from the "pulpit" for our spiritual food. Have a conversation about your group's ability to understand and study the Bible individually. What is your individual plan/method of Bible study? What keeps us from doing this? Suggested resource: Living by the Book, Howard G. Hendricks.
What are the benefits of "priesthood" for those of us who are Christ-followers? How do these benefits affect your daily walk with God and your relationship with others? What are the personal benefits of having Jesus as our High Priest?
God uses human events to advance the Gospel and His Kingdom. The invention of the printing press was an incredible instrument to advance the Renaissance and Reformation. What contemporary invention has had an impact equal in impact with the printing press? How has this invention both advanced and hindered the advance of the gospel?